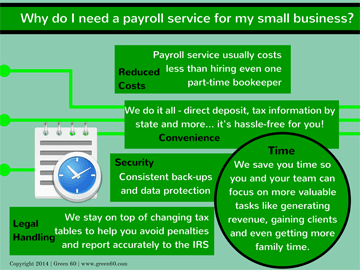 THE TIME MACHINE TREND IS TAKING US BACK TO THE FUTURE
A trend that has been taking over the small business world is Time and Attendance Machines. Business owners are seeing a great value in streamlining employee relations and productivity. Today's new Time and Attendance Machines provide a way for employers to be more involved with their employees. How? By allowing their employees flexibility to see their hours 24/7.  Here a few thing that are needed in a quality Time and Attendance Machine.
SET UP AND SUPPORT
Setting up a time and attendance machine is not an easy task. There are IP Address, RJ45 cables, Gateway Addresses and Iv4's. I know! You say, "what did you say?" These are technical terms for the support team right?  One great company that provides unparalleled support is Green60.com which offers a payroll service of the future. How would you like to have your entire attendance machine set up for you? And have all your employees added to the system?  Simple and to the point.
EMPLOYER/EMPLOYEE DASHBOARD
Time and attendance machines should have a way to access the data online. No one wants to go to the machine itself and find out information.  Green60's Time and Attendance Machine is Employer and Employee friendly. Employers can access their account from any device and see their hours of their employees, submit payroll, and even get daily emails if employees are late or missing. With the Green60 system employees can have access to the hours they work.  This is vital to saving time and bringing a closer relationship between employers and employees.
FINGER PRINT SIGN IN
The days of punching a clock or type in a code are coming to an end. Today Time and Attendance Machines have the ability to use finger print technology. With just the touch of the finger an employees hours are entered. The finger print system offers a greater security and allows for a better way for employees to sign in. At Green60.com you will find this technology in their machines and the support you will need for a smooth transition into the world of technology.
–brad @ green60.com
Save
Save
Save
Save
Save
Save